Don't let summer slip away before you've had a little getaway. It doesn't have to be elaborate or take a lot of planning. A fun day away for lunch with some pit stops through small towns along the way can be just what you need for a reset.
These little foodie road trips around Oklahoma are a great way to send off summer. A change of scenery, even if it's nearby, can be great fun, especially when you've had the best hamburger or chicken fried steak ever.
Take your time, stop at small-town museums or take the back roads — and savor every bite at these food destinations. 
Oklahoma's Little Italy
More than 100 years ago, before statehood, Italian immigrants made their way to a little town east of McAlester to work as coal miners. 
Krebs became known as Oklahoma's Little Italy, a place where you could find authentic Italian food in meat and potatoes country.
Some people call the Krebs style of food Okie Italian; it's a place where you can find menus with mashups of smoky ribeye steaks with spaghetti and meatballs.
When making a trip to Krebs, you'll want to bring a cooler for shopping at Lovera's, 95 N.W. Sixth St., the long-time and much-loved Italian market. Hand-formed cheeses and Italian sausages hang inside the market packed with a mixture of Italian imports and sauces made at Lovera's. You can find many of Lovera's products now at grocery stores, but it's more fun to buy them at the source.
Choose one of the classic Italian restaurants in Krebs for lunch or dinner. Pete's Place, 120 S.W. Eighth St., is great for fried chicken, ravioli and lasagna, plus Choc beer, made on site and served on tap.
Steak and peppers and gnocchi are both solid choices at Roseanna's, 205 E. Washington Ave., a Krebs staple for more than 45 years. The Isle of Capri, 150 S.W. Seventh St., is open for dinner only. On its menu are Oklahoma classics like fried chicken livers and lamb fries along with Italian dishes of fried ravioli, manicotti and veal parmesan.  
Fried onion burgers in El Reno
It might seem like a long drive for a hamburger, but if you want some of the best in the state, head to El Reno. It's been called the Burger Belt of Oklahoma and also the Fried Onion Burger Capital of the World.
Born out of necessity during the Great Depression, fried onion burgers were made by diner cooks who combined onions as a filler with the meat before throwing them on the grill. And they're made the same way today at three El Reno hot spots: Sid's, Robert's and Johnnie's. 
If you haven't had this style of burger, know that these aren't the big, juicy burgers you might be used to. Fried onion burgers are thin — almost crisp around the patty edge — though they do retain a good deal of juiciness from the shredded, caramelized onions. The slightly greasy griddle adds even more flavor, and it's especially good on a warm bun with cheese oozing off the sides.
You can't go wrong with any of the fried onion trifecta of restaurants in El Reno:
Robert's Grill 300 S. Bickford Ave.
Sid's Diner 300 S. Choctaw Ave.
Johnnie's Hamburgers and Coneys 301 S. Rock Island Ave.
The Butcher BBQ Stand
On your way to Oklahoma City, make a stop at the Butcher BBQ Stand, located in Wellston at 3402 OK-66. But come prepared.
This is a barbecue restaurant with rules. Well, maybe not so much rules, but something more like etiquette. No cutting in line, no saving tables and no dogs in the dining room. (We wonder how many people have actually tried that one?) But rules are needed at a place as busy as this. For one, you should expect to stand in line. In fact, the Butcher's website recommends bringing a lawn chair. The wait for lunch can begin as early as 9 a.m., and it's not unusual for folks to stand in line for an hour or more.
But they'll tell you it's worth the wait. Justin Carroll, owner of Tulsa's 1907 Barbecue, has been to the top barbecue restaurants across the country, including all the buzzworthy joints in and around Austin, and he counts the Butcher in Wellston as one of his favorites.
Once you've made it to the chop block to order burnt ends, brisket or the famous apple pie beans, you can eat your food under the shade trees or patio. Fairly new to the Butcher is an enclosed dining room, which is great during the heat of summer.
An hour and a half drive for barbecue might seem excessive, but once you get there, you'll see what all the fuss is about.  
Chicken fried steak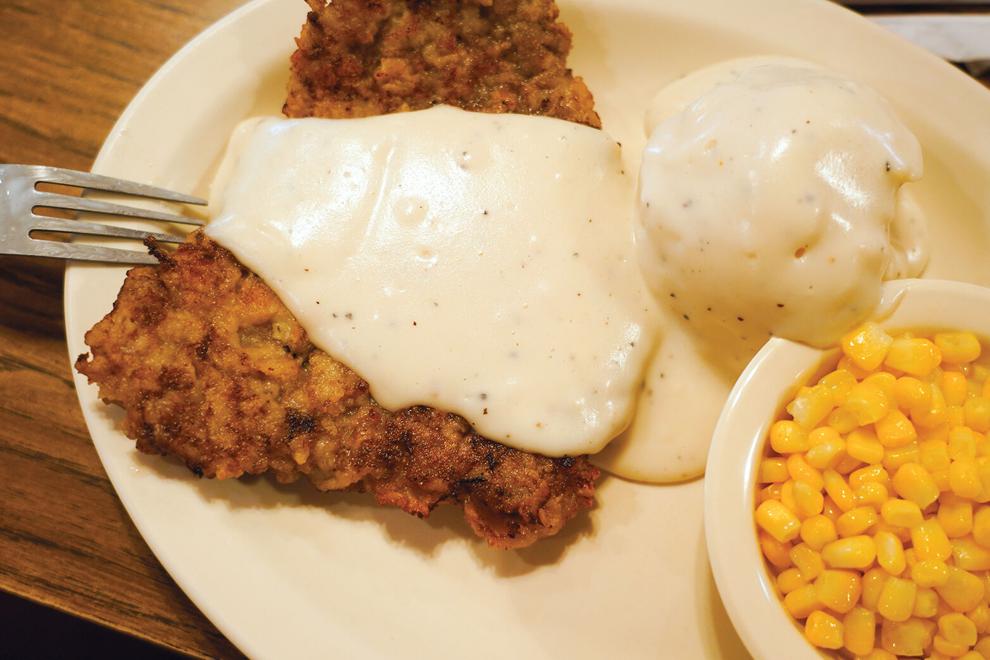 The drive to Vinita isn't bad, and that's especially so when there's chicken fried steak waiting for you on the other side.
Clanton's in Vinita, 319 E. Illinois Ave., is one of the best places in the state for chicken fried steak. Maybe you've seen it on the Food Network show "Diners, Drive-Ins and Dives" or in Garden and Gun Magazine and wondered if it's all it's cracked up to be. 
This chicken fried steak is huge — a tenderized, then hand-battered piece of beef served with peppery country gravy. It's plated with mashed potatoes, soup or salad, the vegetable of the day and a roll. And it's all for under $12. That's a price good enough for you to order lemon meringue pie, chocolate cream pie or berry cobbler for dessert.
Clanton's has an entire menu of comfort food you'll want to try, like chicken and dressing, homestyle pot roast and grilled pork chops.
Vinita makes a great stop for those on a tour of Route 66. While there, you can visit the Eastern Trails Museum for some history of the area. A great stop on the way to lunch at Clanton's is the Will Rogers Memorial Museum in Claremore.  
Hot hamburger with 'Gravy Over All'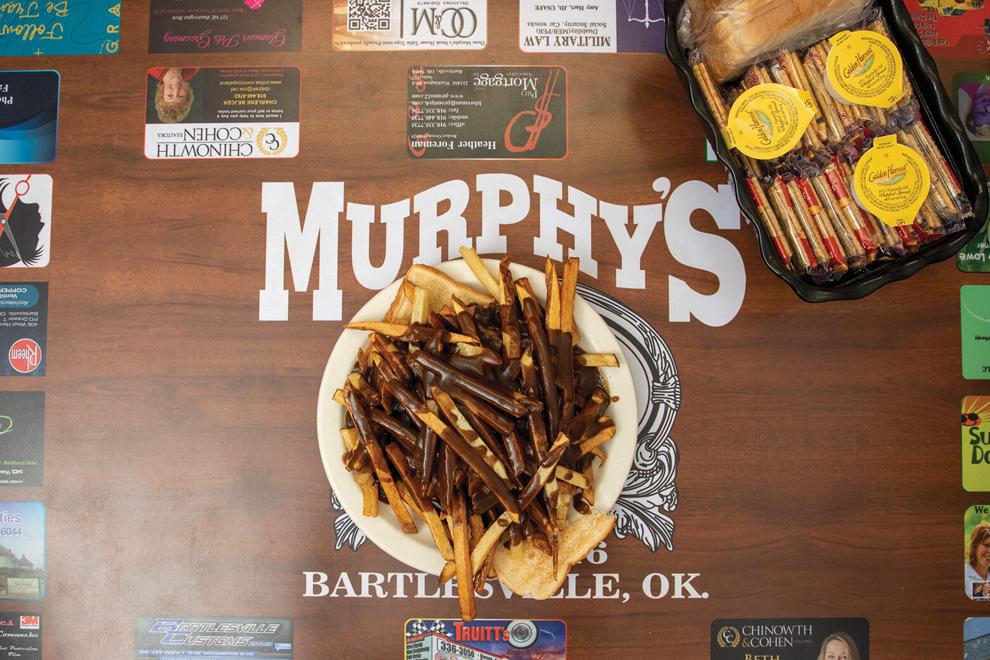 The Murphy's hot hamburger is an experience. For some, it's a once in a lifetime, a one-and-done. That's not because it's not delicious, but because it's pretty extreme.
If you're new to the hot hamburger at Murphy's Steak House, 1625 S.W. Frank Phillips Blvd. in Bartlesville, don't expect a traditional hamburger. The hot hamburger is a chopped hamburger on hot, buttered Texas toast with fresh-cut French fries and a rich brown gravy poured over the top. It's that gravy that makes it rich and amazing. So amazing, in fact, you can buy a souvenir T-shirt that says "Gravy Over All."
Of course, if you're not into all that brown gravy, Murphy's has steaks, chicken fried steak, loaded baked potatoes and chocolate pie, among many other classic Oklahoma foods.
While in Bartlesville, spend some time at Woolaroc, the wonderful wildlife preserve and museum that was once the ranch retreat of oilman Frank Phillips.